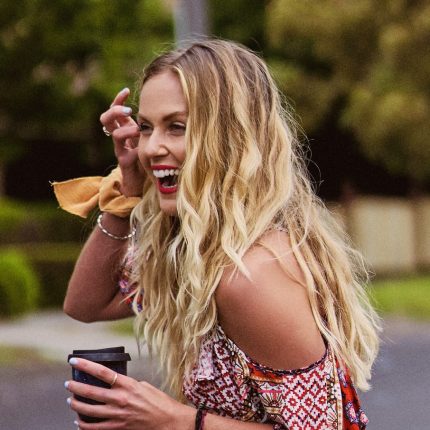 Nikki Jae is an Australian-born, Montreal-based Human Design reader, creative and podcast host. Among her various exploits Nikki has documented the testimonies of ex-Khmer Rouge leaders, stood knee-deep in Cambodian flood waters capturing nature's wrath and solo-trekked the Mongolian steppe on horseback.
Description:
The aliveness you seek is here now, arrival is an illusion.
In Human Design Nikki Jae is a 2/4 emotional Manifestor. Born in Australia and raised in a small, rural town, Nikki's adventurous spirit (hello channel 35-36) saw her live in Cambodia where she worked as a video journalist, trek the Mongolian steppe by horse on her way to Toronto and Montreal where her Human Design experiment began in 2018. Her urges led her to Mexico during the Covid years where she met the love of her life. It turns out the reason they met was because they both virtually attended Jenna Zoe's original teacher training back in 2019 and connected through My Human Design's Instagram account where Nikki previously hosted a weekly segment called 'Manifestor Monday' (hello 4th line life). Together with their two dogs, they rode out the lockdown years traipsing around Mexico, Guatemala and the US living mostly out of the back of their truck.
In January 2022, Nikki discovered she was pregnant, and while she'd been calling in motherhood, it came as quite the surprise (the life of a non-specific Manifestor!). From living on the road as vagabonds, Nikki felt a strong urge to move to the mountains, for that would be where she'd birth her son. Her pregnancy was wild; no doctors, midwives, OB's or ultrasounds – you see, she never had the urge to connect to anybody. And this theme continued. In her 2nd line Manifestor way, she trusted the Divine's call to have a free birth at home, with just her man, her dogs, the mountains and the sun. She knows death and birth in her bones.
Nikki Jae is here to liberate you from the shackles of your conditioned mind, because she has and continues to traverse this path. She has faced myriad fears in the midst of receiving the life of her dreams, and has grieved her former versions of self so that she can show up each day as honest and open as possible.
Her path has been anything but conventional, she has lived through pain, loss, heartache, birth, death and being broke; she's been scrupulous, a corporate climber, a carefree maiden and a witch of the woods.
Today, she stands for the rising of the Matriarch, an archetype found in the psyche of all women. She doesn't do trends, political correctness or the latest manifestation techniques. She will lovingly awaken you to the Truth of who you came here to be. Through intuitive guidance, 6 years lived experience of Human Design and a vast embodied knowledge of the Gene Keys, her sessions will open your heart and mind to the POWER found in the exquisiteness of your very nature.
Testimonials:
"I was hoping for a reader from Canada – and when I saw Nikki lives in Montreal, something just clicked. Event better, she is a Manifestor and so am I!! She gave me personal insight into what it means to be a Manifestor and helpful ways to look at myself in a new and beautiful way. Things I would use to berate myself for are suddenly things that I am meant to be for the greater good!! I am now on this new and exciting path – and feeling a 'rightness' about this and who I am – it's like seeing yourself through a whole new lens – in the best way possible."
"I loved my reading with Nikki – it left me feeling so inspired and empowered! When looking for a reader I kept getting pulled towards Nikki probably because she is a fellow Australian and also because I am a mental projector and I wanted to go with someone who was energetically different. Her knowledge of Human Design is incredible and her reading offered guidance and tools to start implementing into my life, particularly when I find myself in your 'not self', which have been of great value. I really hope to reconnect again with Nikki at some stage."
"My reading with Nikki was magical. She shared real truths about me that celebrated my gifts while pointing out how I am hiding myself. During our conversation, I wrote down quotes from Nikki that are now posted on my desk as reminders of my power and how to reprogram my thoughts so that I am truly living my design without apology. Nikki was wonderful to talk to–she is magical, warm, glowy, and direct."
Testimonials:
"I recently had my Human Design chart read by Ilona and I was truly amazed. I felt so seen, and so perfectly described. She did an amazing job at translating the meaning behind all of the overwhelming aspects of my chart (well… overwhelming to me as a total HD newbie, hah). I am now so intrigued by the Human Design system, and I plan to look into the charts of my children, to help guide me as their mother, in upholding their authenticity. It is clear to me that Ilona's understanding of HD goes beyond just being well learned, she also understands it intuitively in a way that allows her to bring all of the separate aspects of a chart into a beautifully cohesive reading. If you're at all interested in HD I definitely recommend working with Ilona!"
"I recently had my Human Design chart read by Ilona and I was truly amazed. I felt so seen, and so perfectly described. She did an amazing job at translating the meaning behind all of the overwhelming aspects of my chart (well… overwhelming to me as a total HD newbie, hah). I am now so intrigued by the Human Design system, and I plan to look into the charts of my children, to help guide me as their mother, in upholding their authenticity. It is clear to me that Ilona's understanding of HD goes beyond just being well learned, she also understands it intuitively in a way that allows her to bring all of the separate aspects of a chart into a beautifully cohesive reading. If you're at all interested in HD I definitely recommend working with Ilona!"
"I recently had my Human Design chart read by Ilona and I was truly amazed. I felt so seen, and so perfectly described. She did an amazing job at translating the meaning behind all of the overwhelming aspects of my chart (well… overwhelming to me as a total HD newbie, hah). I am now so intrigued by the Human Design system, and I plan to look into the charts of my children, to help guide me as their mother, in upholding their authenticity. It is clear to me that Ilona's understanding of HD goes beyond just being well learned, she also understands it intuitively in a way that allows her to bring all of the separate aspects of a chart into a beautifully cohesive reading. If you're at all interested in HD I definitely recommend working with Ilona!"