Alexandra Cole
Alexandra's personal mission is to help people find a greater sense of purpose in life by learning to lean into their gifts and let go of the resistance or conditioning that may be holding them back from who they are designed to be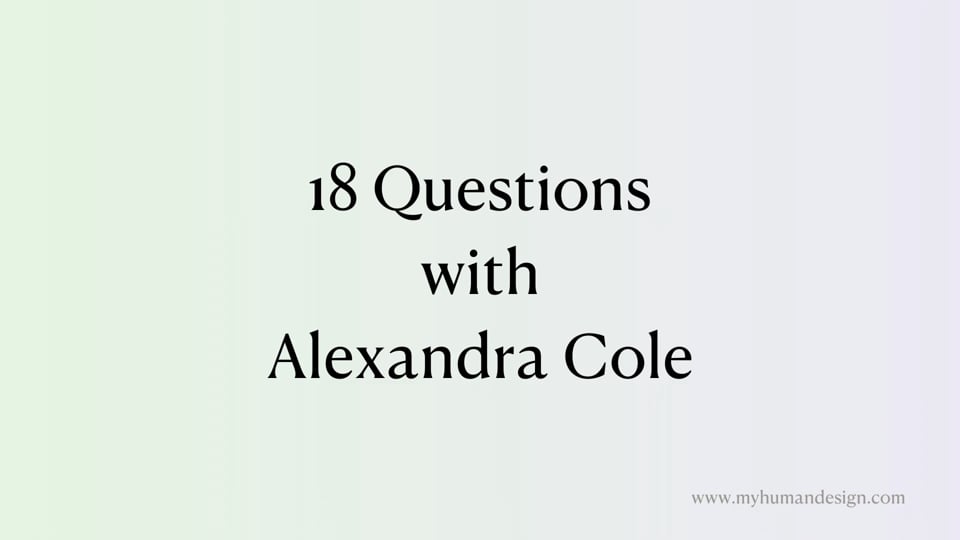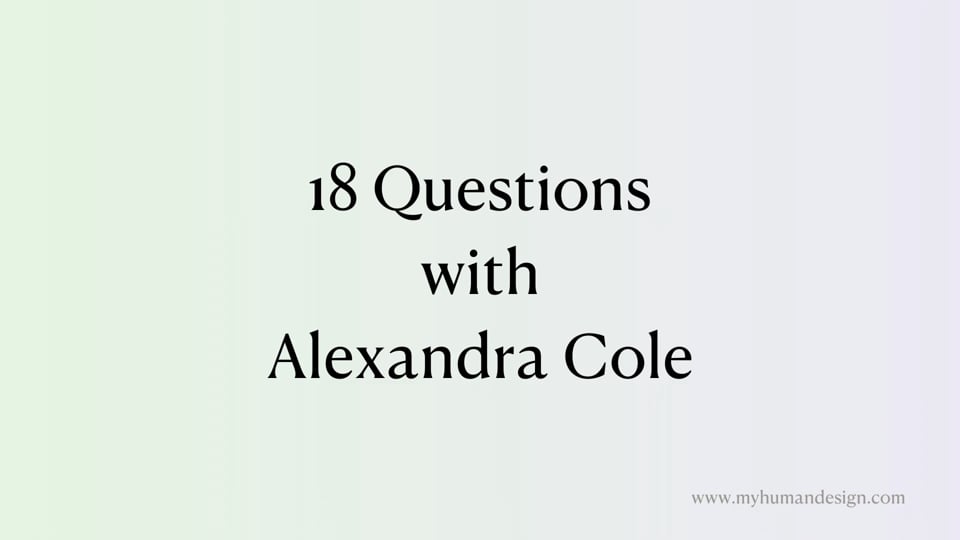 Description:
Alexandra Cole is a former corporate consultant turned coach, author, podcaster, and Human Design practitioner. After a decade of helping Fortune 500s identify and articulate their "why", she felt called to help individuals do the same. She has always felt torn between her practical, no-nonsense approach to life and her fascination with all things "Woo"–until she discovered Human Design, which she describes as the perfect blend between logic and magic.
Alexandra's personal mission is to help people find a greater sense of purpose in life by learning to lean into their gifts and let go of the resistance or conditioning that may be holding them back from who they are designed to be.
Alexandra was born in London, raised in The Netherlands, educated at Princeton University, and is currently adulting in Santa Barbara, California (USA) with her husband. When she is not working with clients, Alexandra is happiest spending quality time with loved ones, listening to podcasts, practicing or teaching yoga, and traveling to new places.
Testimonials:
"Alexandra was incredibly insightful and informative (and just fun to talk with!) as she explained the centers and gates in my chart. I am well-versed on the basics of Human Design and all the info I could look up myself, but wanted to better understand the gates, as I know we are not merely a collection of parts but dynamic systems of relationships within. And they're complex! So I was ready for scheduling a reading with an expert (well actually I was ready for months before I did, but finally did it!) and am sooo glad I did!
I appreciated that Alexandra made me comfortable participating in the reading (I'm a chatty MG!) instead of merely delivering information to me. Her expertise really shined in applying the concepts in my chart to my specific challenges, wants, needs (I don't really have goals, and learned that's OK!), with real-life examples and suggestions that really resonated. 
Even in just that one hour I felt release from many old patterns and behaviors that I knew somewhere inside don't serve me, but didn't have the language to describe to myself — bringing me to tears a couple times (and I'm not a crier!) — and left with valuable tools to go forward into my best experience of life. Also, I've watched and loved many of Jenna's videos and done my own research, and worried if I got a reading it would just duplicate what I already knew — but it was absolutely all new, eye-opening information, and connected so many dots. It kind of just went to a deeper level, getting the info in an engaging discussion about my own life, rather than when I was trying to apply more abstract concepts from different websites to my daily experience.
In short, Alexandra was AMAZING!! I'm excited to put the information into practice, and visit with Alexandra again for her wisdom, guidance and warmth. Thank you Alexandra and Jenna for offering this service!"   Kate T.
"My session with Alexandra was wonderful! I felt connected and safe in opening up to receive the information from her. She was articulate, prepared and intuitively shared aspects of my chart that she knew I needed to hear."
"My reading with Alexandra was wonderful. I had many 'ah-ha' moments that have already helped me to live more authentically. I have many of my friends and family about my reading and said they should have them done. Alexandra was able to relate the reading to all areas of my life. She is intuitive and understanding, and made it look so easy that I am thinking about learning how to do readings myself. Thank you again!"
"I loved my reading with Alexandra and found the reading so liberating and informative. Lots resonated with me and made me excited about some of the projects I'm working on."
"My reading with Alexandra was thoughtful and expansive and covered every aspect of my chart. She also provided deeper insights around properties I expressed special interest in. She has a profound understanding of Human Design and I really recommend her. The depth she added to my knowledge of my chart is such a gift."